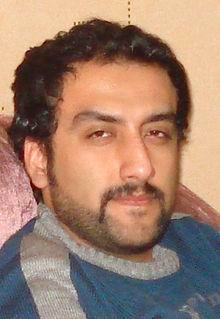 Navid Khanjani: Prisoner of the day
Committee of Human Rights Reporters: Navid Khanjani, human rights activist who was among the citizens arrested in Azerbaijan in August, while helping earthquake victims, has been transferred to Rajai Shahr prison. He first spent a day at Evin prison's Ward 2-A, which is under the jurisdiction of the IRGC.

Security forces previously detained Navid Khanjani in March 2010 and he spent about 2 months in prison and was released on bail. Branch 26 of the Revolutionary Court handed down a 12-year prison sentence, which was later upheld by the appellate court.

Numerous times in the past few months, regime affiliated media outlets published negative articles about Baha'i citizens and warned about their supposed activities, using Khanjani, who practices the Baha'i faith, as an example.

Khanjani was among a group of 35 citizen volunteers who had travelled to the earthquake stricken area of Azerbaijan to help their fellow citizens. The group was violently arrested by security forces 2 weeks ago and transferred to undisclosed locations. Some have since been released on bail but most of the volunteers are still being held behind bars while there is no current news of their condition. Some of the detained citizen volunteers are being held at Evin prison.
26-Sep-2012