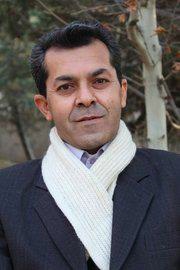 Ebrahim Babaei Zeidi: Prisoner of the day
Kaleme: Over the past several weeks, the Tehran Prosecutor Jafari Dolatabadi has repeatedly denied transfer of Ebrahim Babaei, a political prisoner inside Evin Prison's Ward 350, to a medical facility outside the prison despite his poor health and internal hemorrhaging.

Ebrahim (Nader) Babaei is a nationalist civil activist, a veterinarian, and a disabled Iran-Iraq War veteran. He is also a member of the Zoroastrian organization, Anjoman-e Ashoey-e Iran, that is dedicated to reviving traditional Persian ceremonies.

Nader Babaei was arrested on January 8, 2010, following his participation in the Ashura (December 27, 2009) protests, and was transferred to the Intelligence Ministry's Ward 209 at Evin Prison, where he stayed for close to three months before he was transferred to the prison's General Ward 350. Babaei spent close to 11 months in detention, where his health deteriorated as a result of the disabilities he had sustained during the war following exposure to chemical warfare. Ebrahim Babaei was released on bail in December 2010. He was arrested again on 2 November 2011 to begin serving his prison sentence.

Branch 26 of Tehran Revolutionary Court under Judge Moghisseh sentenced Ebrahim (Nader) Babaei to six years and nine months in prison, 74 lashes, and $3,000 cash fines on charges of "Assembly and collusion," "propagating against the regime," "disrupting public order," and "facilitating the escape of a suspect." An appeals court under Judge Pirabbasi upheld the sentence in full. In August, during the Muslim holy month of Ramadan, along with several other prisoners, Ebrahim Babaei Zeidi's flogging sentence was enforced, and he received 74 lashes at Evin Prison.

Last year, Babaei was exiled from Evin Prison to Rajaee Shahr Prison. In June, he was transferred to the Intelligence Ministry's Ward 209 of Evin Prison where he was interrogated for a month, and was eventually informed of the charges of "propaganda against the regime through continuation of his political activities in prison, and writing a letter to the UN Secretary General."
20-Sep-2012