Waterfront Persians suck
Shorts
22-Jun-2008
The Georgetown Waterfront is one of the only places in [Washington] DC that doesn't suck anymore. From March - October, you can hobble your angry ass down to Georgetown Waterfront Park and enjoy drinks outdoors by the water, grab insanely expensive food (with insanely-er bad service) from Sequoia restaurant, and watch scantily clad women walk between M Street and the water while pretending to be indignant about the negative sexual attention they draw to themselves.
Unfortunately, there is one thing about the waterfront that sucks: Persians.
The favorite pastime of the sons of rich Persian oil and IT barons is to get a bunch of their greasy Ferrari-jacket-wearing douchebag friends together, hop on a Sea Ray, and park that motherfucker on the improvised dock in front of the harbor. I've included a diagram below to point out the interesting sights you'll see there: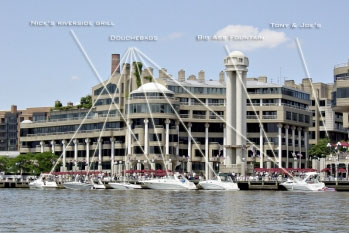 Figure 1: Click on the image to zoom in
When you park your boat at the dock, you're within sight of the many women sitting around the bars and restaurants looking for dudes on boats to fuck, but you're not close enough for them to distinguish your youthful awesomeness from the 50+ year old rich white dudes who've also parked their Sea Rays and are gallivanting about in the company of their Stepford wives, Abercrombie sons, and golden fucking retrievers.
So what's the prospective Persian suitor to do? Blast god awful techno music, of course! Somehow, these sandbags* have convinced themselves that a perpetually alternating woofer-thump and stochattic cymbal is precisely what makes the pussy go "ooh whee." After all, if it works in porno, it must work in real life. Techno music is so effective at attracting women, in fact, that you never see any women on a Persian boat. This is because their reaction to the electronica, combined with the pungent stank of the Persians' Sex Panther cologne, has caused all women in the area to orgasm so hard that they literally disappear into thin air>>>FULL TEXT