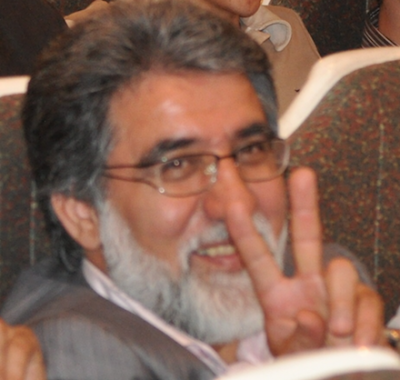 Mohammad Reza Moghiseh: Prisoner of the day
Kaleme: Mohammad Reza Moghiseh, editor-in-chief of the magazine Bist-saleh ha and regular contributor to reformist news sites, has been at Evin Prison for the past three years. Earlier this month, prison authorities had agreed to allow Mohammad Reza Moghiseh to post bail in order to use furlough to attend his son's wedding. But despite his posted bail, the Tehran Prosecutor refused to allow Moghiseh to leave the prison. After the wedding guests were informed that Mohammad Reza Moghiseh was not allowed to attend his son's wedding, they appeared outside Evin Prison gates and continued their celebration there. Prison guards and Police forces tried to disperse the crowd, threatening the bride and the groom with detention. The crowd dispersed at midnight, after chanting "Ya Hossein, Mir Hossein."

Mohammad Reza Moghiseh was a high-ranking member of Mir Hossein Mousavi's election campaign during the disputed 2009 presidential election. He was also head of a joint committee to review cases of individuals injured and murdered after the elections. On October 14, 2009, Mohammad Reza Moghiseh was arrested for the first time, and was sentenced to six years in prison. He was later released on bail in March 2010. Security forces arrested Moghiseh for a second time on October 24, 2010, after they raided his office and home and transferred him to the Intelligence Ministry's Ward 209, where he stayed for 207 days.

A board member of the now-defunct Association of Iranian Journalists, Moghiseh was among a number of journalists and opposition politicians who investigated prison abuses in the aftermath of the contested 2009 presidential election. Moghiseh was a supporter of presidential candidate Mir-Hossein Mousavi.

Mohammad Reza Moghiseh, a disabled Iran-Iraq War veteran, has been denied furlough and in-person visits for the past 18 months. He was not allowed to attend his sister's funeral ceremonies.
21-Sep-2012