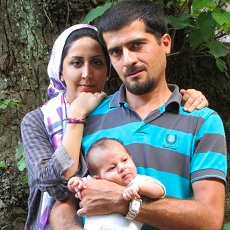 Sabeti and Torabi: Prisoners of the day
Committee of Human Rights Reporters: Erfan Ehsani, an Iranian Bahai from Sangsar, Semnan province, was arrested yesterday and sent to the Semnan Central Prison to serve his term.

Erfan Sabeti was arrested by intelligence officers while he was still waiting to hear from the Court of Appeal.

His first arrest was in February 2012 .He was then released on a $50,000 bail. He had been earlier summoned by Semnan's Intelligence Office.

Later, Semnan`s Revolutionary Court sentenced him to one year imprisonment for his roles in anti-regime activities.

It is noteworthy that his wife Mrs Taraneh Torabi is already in Semnan's women`s prison with her child, serving her 20-month jail sentence solely for her religious affiliations.
02-Nov-2012