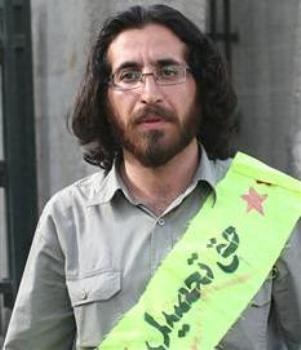 Majid Dorri: Prisoner of the day
Rahesabz: Majid Dorri is a student activist who has been banned from continuing his education, sentenced to 6.5 years in prison, and exiled to Behbahan Prison. In 2007, Dorri was suspended for several terms when he objected to the mismanagement and the security atmosphere of Allameh Tabatabaee University, where he was studying. Later, he was informed in prison that he has been banned from continuing his education.

Here's a March 2012 video in honor of Majid Dorri's 1,000 days in prison:



During the 2009 debates among presidential candidates, when Mahmoud Ahmadinejad publicly denied existence of a list of "starred" students in his Ministry of Science, Majid Dorri and several other starred students from the Right to Education Council held protest gatherings to show that "starred students" did exist.

Majid Dorri was arrested on July 9, 2009 (18 Tir). He was sentenced to 11 years in prison in January 2010, five years of which were to be spent in exile in the town of Izeh, on charges of "moharebeh" (enmity with God), "acting against national security," "disrupting public order," and "relations with the Mojahedin-e Khalgh Organization," charges he has consistently denied. On May 20, 2010, a Tehran appeals court reduced his sentence to six years in prison.

Majid Dorry has spoken several times about Judge Pirabbassi's actions in his trial court, disallowing Dorri to defend himself against the charge of moharebeh (enmity with God), but convicting him on the same charge at the end of the trial session. Dorri's family's attempts to pursue the Revolutionary Court judge's conduct during their son's trial have been fruitless.

In Fall of 2010, a handcuffed and footcuffed Majid Dorri was removed from Ward 350 of Evin Prison and transferred to Behbahan Prison, where he has remained since. His family, residents of Karaj, have to travel 15 hours in each direction to visit him in prison. Majid Dorri suffers from migraine and has not had a single day of furlough since his arrest. While at Evin Prison, Majid Dorri embarked on several hunger strikes, and since he has been transferred to Behbahan Prison, he has written several letters to the authorities, objecting to his long prison term and his treatment.

In January 2011, Majid Dorri's parents were summoned to Karaj Intelligence Office and threatened not to disseminate information about their son's case.
09-Jul-2012