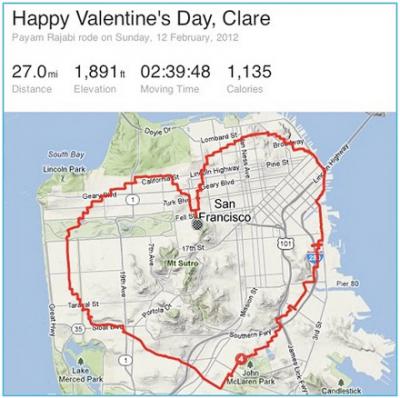 Payam: Map of His Heart
sf.curbed.com: Roses and some chocolate (really good chocolate, in a box) on Valentine's Day are great, but the roses come with possible pesky environmental issues, and as for chocolate, free trade issues, not to mention the marketing battle over whose bittersweet is better. A man in San Francisco set the bar a little higher, biking a path for Valentines Day, tracking it with his iPhone and GPS and sending it to his girlfriend. So a girl named Clare in Toronto got a 27-mile bike ride traced in the shape of heart from her boyfriend Payam.

I recently moved to San Francisco from Toronto to start a new job, so Clare and I have been doing the long distance thing for the past few months. I wanted to do something a little different to surprise her on Valentine's Day. I was excited by the possibility of drawing shapes on a map based on the path I ride. We're both really fascinated by maps and they've been a common point of interest throughout our relationship.

Clare, this man is a keeper. Payam's bike is from Mission Bicycle Company, which passed this Valentine's Day wish on to us. We're surprised he didn't use more calories. As for the rest of us, there's next year.
16-Feb-2012