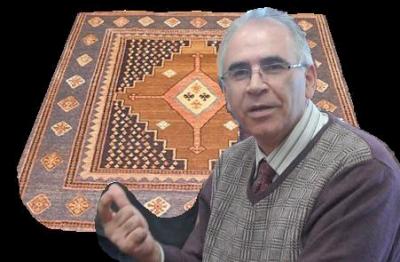 Khosrow Sobhe
While two assistants flipped through a dazzling inventory of hand-made carpets at his Los Angeles shop, Dr. Khosrow Sobhe paused the display on one particular Varamin carpet.

"This is a hand-made reproduction," Sobhe said. "I found the original on an old man who was carrying it and asked if he would sell it to me. The man said 'no.' I said I will pay you whatever you want. The man said 'this carpet has been in my family for 150 years, and it's not for sale.' I said, I'll give you a blank check; fill it in with whatever amount you want right here in front of me; a million Tomans, two million, whatever. He said 'no.' Finally I asked if I could take a couple of pictures so that the rug could be reproduced. The old man was OK with that."

It took three weavers 6 months to reproduce the carpet (shown in photo above), to say nothing of the time and effort of getting the right materials and colors together.

Award winning Persian carpet specialist Dr. Khosrow Sobhe, known also as "Dr. K," is the editor in chief of Farsh Dastbaf Iran, the quarterly magazine of the Iranian Hand-made Carpet Producers and Exporters Association. In this Tehran Bazaar based magazine I looked for articles about the craft of carpet weaving. There was plenty of discussion about arts and crafts, but the quarterly is also a fascinating account of the economics of the carpet trade with in depth discussion of duties, taxes, inflation, government policies and such. The insights in these articles about the carpet trade carry over to other non-oil export production in Iran. Here's a translated excerpt from one of the editorials in the magazine:

"We [carpet industry] did all the work, together hand in hand, with no help from any government...we birthed ourselves. No aid, no support package, no academic courses, no research on our behalf. It was as though they did not see us or take us seriously. Why? Because they had oil and gas and mines. Only when they run into trouble with these God given blessings do they remember that we exist and that in corners, here and there, perhaps a million or so (!), are busy grazing animals, spinning, collecting dye plants and fruit skin, weaving, exporting, and bringing in foreign exchange revenue."

Dr. Sobhe keeps a blog on his Varamin carpet website where he writes about his daily experiences as a rug expert and merchant.
11-Dec-2010