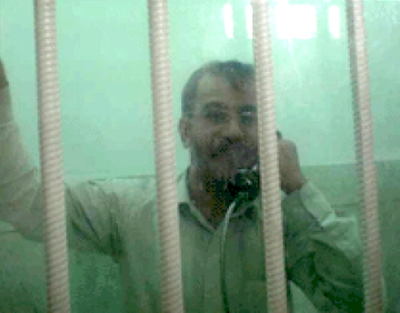 Anvar Hossein Panahi: Prisoner of the day
CHRR: Several days Anvar Hossein Panahi's transfer from Sanandaj Central Prison; no information has yet been made available about his situation. Intelligence Ministry authorities have opened another case for this political and civil activist. A source close to the family of Hossein Panahi told CHRR that last Thursday he was transferred from the central prison in Sanandaj to Intelligence Ministry Detention Center, where he is under further interrogations.

According to the source, Panahi is being subjected to additional pressure because the Intelligence Ministry is questioning his activities during the short time he had been released on furlough. During that time Panahi had inquired about the situation of some of his cellmates and their families. In so doing, he is accused of contacting their lawyers and activists by the Ministry of Intelligence and they have created a new file for him.

According to the source, on Saturday September 21, the family members of Hossein Panahi visited the Sanandaj Central Prison to follow up on his situation and were told by prison officials that he had been transferred from that location.

The Revolutionary Court first sentenced Anvar Hossein Panahi, Kurdish social and political activist, to death. After tireless efforts and protests on the part of human rights activists, his death sentence was later commuted to life in prison.

However, officials of the Ministry of Intelligence have told the family of Hossein Panahi that in their view, the death sentence should have been upheld and he should have remained on death row.
29-Sep-2012