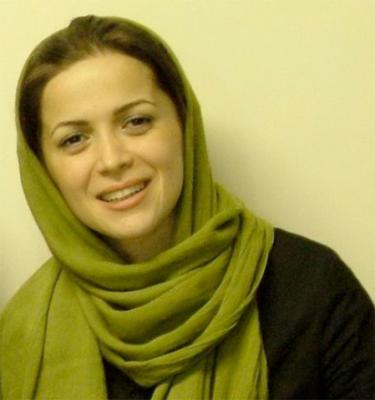 Nazanin Khosravani: Prisoner of the Day
BBC & Radio Farda: On 5 March 2012, journalist Nazanin Khosravani turned herself in to authorities at Evin Prison in Tehran in order to begin serving her six-year prison sentence. "Ms. Khosravani was summoned to enforce the ruling several times, but she was returned each time. But today, 5 March, she turned herself in at Evin to begin serving her sentence," a source confirmed.

Khosravani's mother, Azam Afsharian, told Radio Farda that her daughter's lawyer had been informed that an appeals court had upheld the sentence. "On 15 February, we found a court notice in our parking lot that informed us of confiscation proceedings for a property we had introduced as our bail collateral. No other notices had been sent to my daughter prior to this. As I was the property owner who had posted bail for her, I went to court that week and inquired about the notice. They told me to ask my daughter to appear in court. I said we had not received a notice. They said that they had for sure sent a notice and it had somehow never reached us, that maybe it had been lost. That same week on Sunday, Nazanin packed her suitcase and went [to prison]. But they told her to go and come back the next day. She went back and forth for 2-3 days. One day they told me that the Judge wasn't there; another day the Judge saw her and told her to sign a letter, requesting pardon, stating that she had made a mistake, to be released. But Nazanin said, 'I have not done anything, and that's why I will not sign any letters.' So they told her to go and come back the next week. Today it was one week since that day. They called Nazanin from the Evin Prison Court today. We went there together. They talked to her again to sign the pardon request form, but Nazanin did not accept again and this is why they told her to stay."

Branch 26 of Tehran Revolutionary Court, under Judge Pirabbasi, tried Nazanin Khosravani in April 2012 and found her guilty of "assembly and collusion to act against national security and to propagate against the state."

Khosravani was arrested on 3 November 2010 at her home and spent 132 days inside the Intelligence Ministry's Ward 209 at Evin Prison. She was released on bail of $600,000 in March 2011.

Nazanin Khosravani, 35, is a reformist journalist who has worked with Norooz, Bahar, Doran-e Emrooz, Kargozaran, and Sarmayeh newspapers and Aftab News Agency.
06-Mar-2012