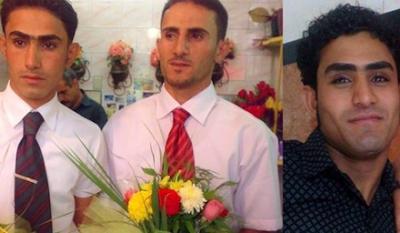 Abdul Rahman Heidari, Taha Heidari, Jamshid Heidari: Ahvazi Brothers Executed
Al Arabiya News: Iran executed on Monday three brothers from the Ahwazi Arab community who were detained in April 2011 and were later sentenced to death for allegedly killing a law enforcement official, a charge dismissed by international rights groups as false.

The Brothers –Abdul Rahman Heidari, Taha Heidari and Jamshid Heidari – were reportedly detained together with their cousin Mansour Heidari and Amir Muawi during the unrest in the Khuzestan province.

Ahmad Haidaran, a relative of the three brothers who currently lives in Turkey as a refugee, told Al Arabiya that his family from Ahwaz informed him of the executions.

Haidaran said he also confirmed the report in a phone call with the family of the victims and that he heard crying and sobbing in the background.

Amnesty International had urged the Iranian authorities last Monday to overturn the death sentences against the five detainees.

The right group released the statement after the prisoners were moved to an unknown location over the weekend, indicating that they are facing imminent execution.

"The men were transferred out of the general section of Karoun Prison in the south-western city of Ahvaz on Saturday, prompting concerns their death sentences may be about to be carried out," Amnesty reported.

Death row prisoners in Iran are generally transferred to solitary confinement shortly before their executions.

Ahwazi Arabs, one of the country's many minorities – who are mostly Shiite Muslims like the majority in Iran – live mainly in the oil-rich south-western province of Khuzestan and often complain of being "marginalized and discriminated against in access to education, employment, adequate housing, political participation and cultural rights."

In 2005, Khuzestan was the scene of mass demonstrations to protest Iran's government policies.

In a similar case in early May 2011, the Iranian authorities reportedly executed at least eight Ahwazi Arabs - including Hashem Hamidi, believed to be 16 years old – "for their alleged role in the deaths of a law enforcement official and two others during clashes".
19-Jun-2012