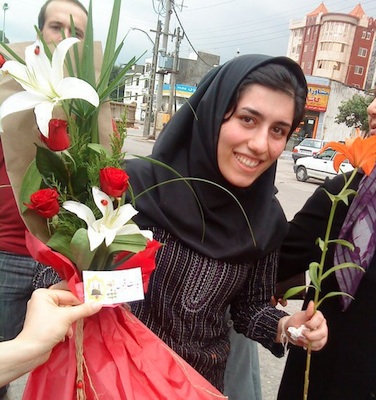 Sara Mahboubi: Prisoner of the day
P.C.E.D.: Sara Mahboubi, a Bahai student who was banned from attending university, turned herself in on Wednesday, July 18, 2012, to begin serving her 10 month prison term at Sari Prison in Mazandaran Province.

Security forces first arrested Sara Mahboubi on June 24, 2010, after she appeared at the Sari Intelligence Office following receiving summons, and transferred her to a solitary cell inside Sari Intelligence Office Detention Center. She was released on bail 24 days later. Security forces arrested her again on April 9, 2011, when they searched her home and confiscated books, hand-written notes, CD's and a computer hard disk from the premises.

The Sari Revolutionary Court had served Sara Mahboubi's lawyer on April 7, 2011 with her sentence of 10 months in prison on charges including "membership in the anti-revolutionary website of Facebook," and "propagating against the regime," for following the Bahai faithe and for her activities and membership in the Right to Education Council. Her sentence was later upheld.

Sara Mahboubi's brother, Vesal, was also detained on April 25, 2011 and was released on bail 10 days later.
19-Jul-2012