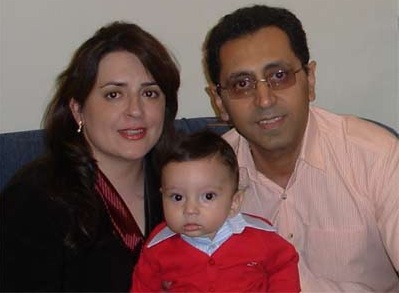 Faran Hesami, Kamran Rahimian: Prisoner of the day
P.C.E.D.: Faran Hesami, a Bahai citizen who was previously sentenced to four years in prison, was arrested on Sunday, July 15, and transferred to Evin Prison to commence serving her sentence.

Hesami was arrested when she went to Evin Prison's Sentence Enforcement Unit to verify a power of attorney form belonging to her husband, Kamran Rahimian, who is already serving his four-year term at Rajaee Shahr Prison.

On January 3, Branch 15 of Tehran Revolutionary Court under Judge Salavati sentenced the couple who were both lecturers at the Bahai Institute for Higher Education (Bahai Online University), to four years in prison on charges of "membership in the Bahai community," and "assembly and collusion with the intent to disrupt national security."

Hesami and Rahimian were arrested on September 13, 2011. Faran Hesami was released on bail in late November 2011. Rahimian was detained inside Ward 209 of Evin Prison prior to his trial, and was transferred to Rajaee Shahr Prison immediately after his trial. Earlier, seven other Bahai citizens were transferred to Rajaee Shahr Prison in relation to their roles in the Bahai University.

Hesami had appealed her lower court ruling and was unaware that the appeals court had upheld her sentence.

Rahimian and Hesami have a three-year-old child by the name of Artin.
17-Jul-2012