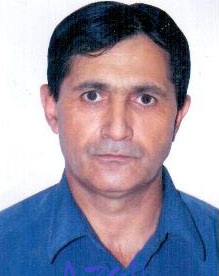 Asadollah Asadi: Prisoner of the day
Azooh: Father and sister of a Tabriz political prisoner lost their lives during the recent Azerbaijan earthquake.

َIn May 2012, after spending more than 20 months in prison without charges and under severe torture, Asadollah Asadi, 49, a Tabriz physician, was sentenced to ten years in prison on charges of "cooperating with enemy states" and "membership in the Muslim People's Party." The Muslim People's Party is a banned political party formed around the late Grand Ayatollah Seyed Kazem Shariatmadari. The political group is identified with their refusal to recognize the position of the Guardian Jurist (Velayat-e Faghih).

According to Kaleme website, in March 2012, Asadollah Asadi attempted suicide in Ward 350 of Evin Prison to protest his state of judicial limbo by taking tranquilizers and cutting a vein, but other prisoners' vigilance saved his life.

After his July 12, 2010 arrest in Tabriz, Asadollah Asadi spent four months inside Tabriz Intelligence Office Detention Center, where he attended more than 180 interrogation sessions under torture. He developed kidney problems as a result of kicks to his back and sides and has lost most of his vision as a result of long-term detention in dark solitary cells. He was transferred to Evin Prison in late 2010, where he spent time in solitary cells inside Intelligence Ministry's 240 and 209 Wards.

Asadollah Asadi developed severe depression in prison. Asadi appeared five times at Branch 15 of Tehran Revolutionary Court under Judge Salavati, to verify confessions extracted from him under torture, and each time Asadi retracted the confessions. Reports indicate that Asadollah Asadi was threatened with execution, being thrown into the sewer, getting buried alive, and sticking his head into the toilette. At one point he was kept awake and standing up for five days, denied permission to lay against a wall or to sit down.

It is not clear whether Asadollah Asadi will be allowed to attend the funeral of his father and sister.
19-Aug-2012