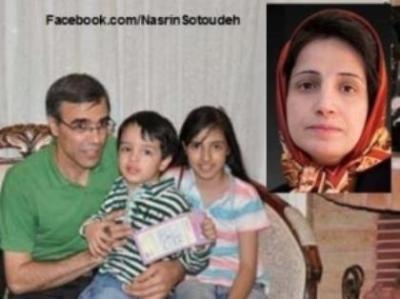 Nasrin Sotoudeh: Prisoner of the day
ICHRI: In an interview with the International Campaign for Human Rights in Iran, Reza Khandan, husband of Iranian lawyer and human rights defender Nasrin Sotoudeh, said that Sotoudeh's family spent a second year without her during the Iranian New Years' holidays. Reza Khandan said that Sotoudeh's family have not grown used to her imprisonment, believe her charges and sentences illegal, and demand her prompt release.

Reza Khandan told the Campaign that not only was Sotoudeh's request for leave to be with her family for the New Year's denied, she was deprived from telephone privileges during the first few days of Nowruz holidays. "Unfortunately, after two years of imprisonment, her leave was denied and she and the other women in her ward were not even allowed to make telephone calls to their families during the holidays. Some male political prisoners were allowed to spend Nowruz near their families, but none of the female political prisoners were allowed even hourly leave during these special days. We did not hear from Ms. Sotoudeh from 19 through 29 March. Ten days after Nowruz, they finally allowed visitation, and the kids and I were able to see her," he said.

"We regard Ms. Sotoudeh's sentence as one without any legitimacy, and we also [object to] the lack of observation of her basic rights in prison. She has been denied the right to make telephone calls for almost a whole year. Many non-political prisoners have telephone sets above their beds and they can call whomever they want daily. They can even take care of their business affairs by phone. But female political prisoners, even on our most important celebration, Nowruz, were deprived from having simple phone calls to their families," Sotoudeh's husband said.

Asked what explanation the prison authorities provided for denying Nasrin Sotoudeh a furlough leave, Reza Khandan said, "The policy the authorities have adopted vis a vis the political prisoners has been one of silence. Unfortunately, none of the officials consider themselves accountable to the families of political prisoners. We have never received any replies to our written and verbal requests. I mean even if you write ten furlough or any other types of request, if the officials are against it, they never provide you with an answer about their reasons for opposing it. They completely ignore our letters and verbal requests. I don't know why they denied a leave for Ms. Sotoudeh."

Reza Khandan emphasized that his wife's imprisonment is illegal. "The most important point is the illegal arrest of Nasrin Sotoudeh without a crime. She is a mother of two young children who has been in prison for the past 19 months. We demand her prompt release. She and the other prisoners who have been detained for unfounded reasons and who do not have a scrap of criminal element inside their case files must be released immediately, [the Judiciary] knows this better than the rest of us," Khandan told the Campaign.

Nasrin Sotoudeh was arrested on 21 September 2010, and on 8 January 2011, she was sentenced to 11 years in prison, 20 years' ban on her legal practice, and 20 years ban on foreign travel on charges of "acting against national security," "collusion and propagation against the Islamic Republic," and "membership in the Center for Human Rights Defenders." Her sentence was subsequently upheld in its entirety by an appeals court.


04-Apr-2012