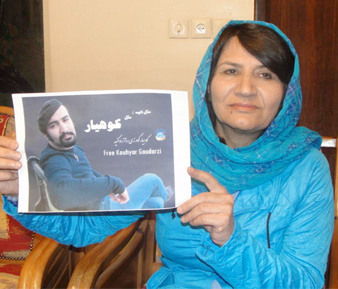 Parvin Mokhtare: Prisoner of the day
chrr: Parvin Mokhtare, mother of imprisoned human rights activist, Kouhyar Goudarzi, was arrested on August 1, 2011, at her home in Kerman, one day after her son, Kouhyar Goudarzi, was also arrested in Tehran. After her arrest, she was informed of her charges of "propagating against the regime," and "insulting the martyrs and the Supreme Leader" and was later put on trial on these charges. This week it was announced that Parvin Mokhtare has been sentenced to 23 months in prison.

Mokhtare's heavy sentence is a result of interviews she gave after the 2009 arrest of her son, Kouhyar Goudarzi, protesting her son's illegal detention. Though families of prisoners of conscience have been persecuted by the Islamic Republic in the past, Mokhtare's heavy sentence is unprecedented. According to Mokhtare's family, her case judge sent her a message prior to issuing her sentence, asking her to write a repentance letter, expressing remorse for her actions in order to receive a lighter sentence. Parvin Mokhtare did not agree to writing such a letter, stating that it was her legal right to defend her son.

Mokhtare was denied access to a lawyer during her trial, and security forces told her she did not need a lawyer in court. Five months after his arrest, her son, Kouhyar Goudarzi, remains in a limbo in the Intelligence Ministry's Ward 209 inside Evin Prison. Goudarzi served one year in prison following the 2009 unrest.

Here's a clip of an interview she did with VOA last year about her son's case.


22-Dec-2011