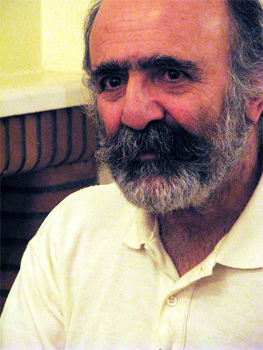 Kayvan Samimi: Prisoner of the Day
rahana.org and CPJ: Arrested on June 14, 2009, Kayvan Samimi, 64, manager of the now-defunct monthly Nameh, is serving a six-year prison sentence on charges of "propagating against the regime," and "assembly and collusion to disrupt national security" along with a 15-year ban on "political, social, and cultural activities."

Initially held at Evin Prison, Samimi was subjected to mistreatment. In February 2010, he was transferred to solitary confinement after objecting to poor prison conditions, according to Free Iranian Journalists, a website devoted to documenting cases of jailed reporters and editors. He and 14 other prisoners later went on a 16-day hunger strike to protest abuse at the prison. In November 2010, Samimi was transferred to Rajaee Shah Prison in Karaj, which houses violent criminals, according news reports. In May 2011, he and several other political prisoners waged a hunger strike to protest mistreatment there.

In August 2011, the reformist news website Jonbesh-e-Rah-e-Sabz reported that Samimi was in poor health and suffered from liver problems. Prison authorities refused medical leave for treatment outside the prison, the news site reported.

Video: An older clip of Kayvan Samimi's lawyer, Nasrin Sotoudeh, now imprisoned herself, describing one of the times Kayvan Samimi participated in a protest hunger strike.


14-Dec-2011