Dictators Club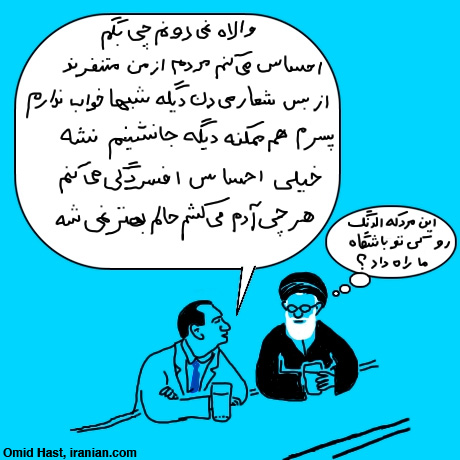 آیت الله علی خامنه ای در مراسم نماز جمعه تهران تحولات سیاسی خاورمیانه را "بیداری اسلامی" خواند
و حسنی مبارک، رئیس جمهوری مصر، را "نوکر آمریکا" توصیف کرد.
Mubarak: "I don't know what to say. I feel the people hate me.
Their slogans don't let me sleep at night.
My son may not even be able to succeed me.
I'm feeling depressed.
Killing more people doesn't seem to help either."
Khamenei, thinking: "Who let this idiot into our club?"
02/05/2011 - 01:15