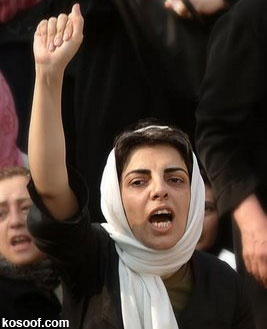 Parvin Ardalan
Press Release
Wednesday February 13th 2008 -- Olof Palme Prize 2007 goes to Parvin Ardalan, frontfigure for the Iranian Women's movement. Her commitment and insistent work represents a path of democracy and dialogue in a region filled with conflict. Parvin Ardalan has succeeded in making the demand for equal rights for men and women a central part of the struggle for democracy in Iran [See One Million Signatures Campaign]. As a result, the women's movement for civil rights and liberties has, to a great extent, spread geographically as well as socially. Despite persecution, threats and harassment, Parvin Ardaln has been persistent in her struggle and never compromised her ideals. Through constantly more ingenious methods, she and her fellow sisters have managed to increase the support for equal rights. The ongoing campaign for a million signatures against discrimination is an excellent example. Their intensive work deserves international recognition as a path to democracy and peace in this region of turbulence and conflict.
* * * * *
The Olof Palme Memorial Fund for International Understanding and Common Security was established by Olof Palme's family and by the Social Democratic Party to honour Olof Palme's memory. The Fund's purpose is, through scholarships and grants, to give opportunities to young people for international exchange and for studies of peace and disarmament, to support work against racism and hostility toward immigrants and to foster in other ways work for international understanding and common security.
THE OLOF PALME PRIZE is awarded annually for an outstanding achievement in the spirit of Olof Palme chosen by the Fund's Board.A Prize ceremony will be held at the van der Nootskapalatset in Stockholm March 6th 2008, at 16.00.
PRESS CONTACT
For comments on this years prize winner, please contact:
-- Pierre Schori, Chairman, telephone +46 (8) 70 - 958 38 38,
-- Joakim Palme, vice Chairman, telephone +46 (0) 70 - 399 03 54.
13-Feb-2008