Not so fast
Goudarz Eghtedari
22-Jun-2008
As a transportation engineer and researcher I have found some troubling errors in the report of the Rasht-Zanjan highway bridge. I am not sure who the reporter is, but he has fabricated a whole bunch of things by not showing the whole picture and by fabricating an erronous graphic.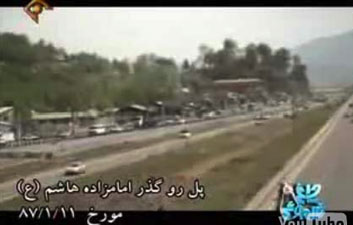 Let's for the simplification of the discussion assume that camera in the picture above is facing toward North. As one can see from the picture above these are two parallel roads at this point. The portion in the right side of this image is Northbound on Ghazvin Rasht freeway. The road to the left where couple cars are approaching the word Hashem are southbound on freeway toward Ghazvin. Further to the left of southbound are both NB and SB of Emamzadeh Hashem road.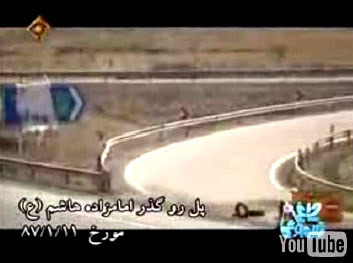 Now here is the off ramp from NB freeway toward Rasht, as covered sign says this is off ramp to Emamzadeh Hashem road. Just above the sign you can see the guard rail that separates the NB on ramp to Rasht from emamzadeh hashem road. In the video one can see the cars using that ramp on the other side of Jersey barrier when the so called reporter talks to driver.
Here you are looking north at the road toward Emamzadeh Hashem. As one can see the other piece of the NB em.Hashem road is also closed to the right of the reporter. This is completely separate from the Rasht-Ghazvin freeway as can be identify by the wide ditch to the right of the service road. Further north from that road-block there is a guardrail that separates the NB and SB road to emamzadeh Hashem. The end of the NB off ramp from freeway now merges from left side of the freeway SB off ramp to NB service road. I have tried to show the whole picture in the following sketch, hope it helps: