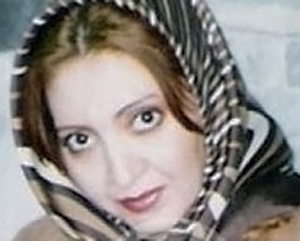 Ashraf (Setareh) Alikhani: Prisoner of the day
RAHANA: Ashraf Alikhani is a poet and a blogger who wrote in her blogs, Sabad, Sabad Setareh. She is also a social worker.

Alikhani was first arrested on 5 February 2010 when several Intelligence Ministry forces arrested her at her home and transferred her to Evin Prison. She was released on bail 16 days later. She was arrested again in June 2011 to begin serving her prison term.

One of the reasons for her arrest was cited by other bloggers as "calling a satellite television station and reading one of her poems."

Ashraf Alikhani was tried at Branch 15 of Tehran Revolutionary Court under Judge Salavati during August and September 2010 on charges of "assembly and collusion with the intent to commit crimes against national security through deliberate participation in street riots, propagating against the Islamic Republic of Iran through contacting an anti-revolutionary satellite network, sending emails, publishing internet content insulting to the Islamic state, blogging, and inciting others to participate in illegal gatherings, riots, and confrontation with the Islamic Republic, owning and using satellite receiver equipment." She was sentenced to three years in prison.

Branch 54 of Tehran Appeals Court upheld Alikhani's sentence in March 2011. She was arrested in June 2011 and is currently serving her sentence inside Evin Prison's Women's Ward.

* Alikhani's voice, reciting one of her own poems:



* Her blogs: sabadesetareh.blogfa.com

* Her next to last blog before her June arrest.

---
با سلام

در شرایطی که یک هفته است به شدت مریض هستم و قلبم درد می‌کند، امروز دوشنبه ۲ خرداد از دایرهٔ اجرای احکام برای من نامه رسیده و نوشته که ظرف ۳ روز به دادسری اوین بروم و خود را تحویلِ زندان اوین دهم!

من هم علیرغمِ بیماری و ۱۰۰۰ مشکل، اما با افتخار و سربلندی به زندان خواهم رفت، چرا که حکومت اسلامی تصور کرده با زندان یا شکنجه یا اعدام میتواند مردم را خفه کند، غافل از اینکه هیچ دیکتاتوری پایدار نیست و این حکومت هم دیر یا زود میرود اما با نامی‌ سیاه که ضدّ زن و ضعیف کش بوده !

من با این باور که حکومتی اینگونه بی‌ انصاف، حکم زندان و احکام ظالمانه دیگر به بی‌ گناهان و بی‌ پناهان صادر می‌کند، فریاد میزنم که حتا اگر در زندان مثل پسر داییم بمیرم اما تن به خفّت و بی‌ شرافتی نخواهم داد، این حکومت برای مردم هیچ کارِ مفیدی نکرده و فقط باعث بدبختی و فقر و فحشا و فساد بوده، و هزاران اعدام که همهٔ اینها ضدّ انسانی‌ بوده، چون کشوری که اینقدر ثروت و ذخایر دارد و مردمی جوان، باید در آبادی و رفاه میبود اما جمهوریِ اسلامی نخواست مردم خوشبخت باشند!

حالا من به جرم این حرف‌ها میروم زندان؟ ایرادی ندارد، میروم، آنهم با غرور چون حق با من است و دروغ و کلکی در زندگی‌ من نیست، خوشبختانه از جمهوری اسلامی دروغ و کلک را یاد نگرفته ام! حکومتی که در ابتدا گفت برادری، برابری، حکومت عدل علی‌! اما چیزی به جز نابرابری و ظلم انجام نداد، به خصوص در حق زنان و جوانان! نسل کشی و همه جور سرکوب و تحقیر و هرچه دلش خواست بدون در نظر گرفتن وجدان انسانی‌ انجام داد. حالا این زندگی‌ با تحمل حقارت چه ارزشی دارد؟ مرگ در راه آزادی هزار بار به خفّت و خفقان می‌ارزد، انسان سالم تن به پستی و خفقان نمیدهد!

مأمورین اگر دوست دارند باز هم بیایند و همهٔ دارو ندار مرا توقیف کنند! وبلاگم را مسدود کنند! هر چه میخواهند بر این زنِ تنهای بی‌ پناه فرود آورند! مرا باکی نیست چون حرف غیر حقیقت نزده ام.

در ضمن به پدرم هم اخطار آمده که اگر این خانم یعنی‌ من، اگر تا ۲۰ روز به اوین معرفی‌ نشوم، وثیقهٔ او را به نفع دولت ضبط میکنند! نمیدانم باید به این اخطار دومی‌ بخندم یا نه!؟

به هر حال رنسانس ایرانیان مسیر خود را طی‌ می‌کند و بسوی آزادی و برابری پیش خواهد رفت، به امید آنروز

زنده باد آگاهی‌، آزادی، برابری، آبادی، امنیت، صلح، احترام، و حکومتِ مردمی

ستاره.
تهران
09-Mar-2012