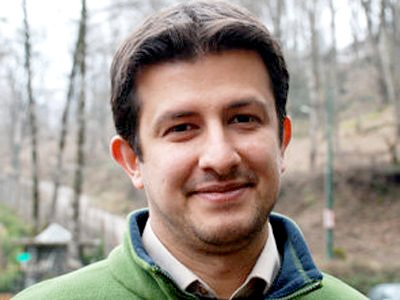 Emad Bahavar: Prisoner of the day
RAHANA: Emad Bahavar, a political activist and head of the Youth Branch of Iran Freedom Movement, was arrested and released several times in the aftermath of the 2009 presidential election, the last time on March 12, 2010. Emad Bahavar, a graduate student of political science, was handed an expulsion ruling by Babol University, was dismissed from his job, and was banned from traveling abroad on orders from the Intelligence Ministry. He learned about his education ban when tried to submit his final thesis to Babol University in 2010.

During his early detention, Emad Bahavar was under immense pressure for making forced television confessions. Six months after his arrest, Branch 15 of Tehran Revolutionary Court, under Judge Salavati, put him on trial on October 3, 2010 on charges of "conspiring against the national security of the country," "propaganda against the state," and "insulting the Supreme Leader." It was announced on 9 December 2010, that the court sentenced Emad Bahavar to ten years in prison and ten years' ban on participation in political parties, media activities, and internet activities. An appeals court upheld Bahavar's sentence in its entirety on January 10, 2011. Emad Bahavar is currently inside Evin Prison's General Ward 350.
25-Feb-2012