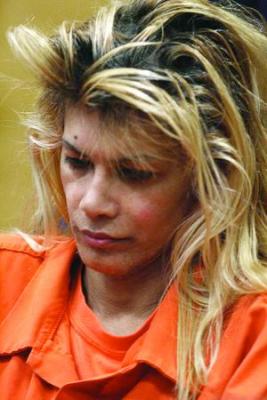 Majid "Nastaran" Kolestani
Magicvalley.com: Majid Kolestani (Golestani?) fought to wear women's clothes during a murder trial, but in the end, won't dress for it at all.

The 42-year-old transgender Iranian refugee who identifies as a woman pleaded guilty on Monday in Twin Falls 5th District Court (Idaho, USA) to first-degree murder in a plea agreement that will likely send Kolestani to prison for 18 years to life.

Through a Farsi-speaking translator, Kolestani, 42, who also uses the first name Nastaran, requested identification as a woman from the court. Kolestani recently won permission from the court in May to dress in women's attire at a trial originally scheduled for later this month.

Kolestani shared few details Monday on the method or motivation behind the Aug. 25, 2008, murder of former housemate and fellow Iranian refugee Ehsan Velayati Kababian.

"I murdered Ehsan by shooting him," Kolestani told the court. "In order to gain knowledge about the rest of the charges you can read the indictment."

The murder was motivated by jealousy over another woman who Kababian was romancing in Iran, a mutual friend of the Iranian refugees told the Times-News.

A neighbor told authorities in court records that he saw a tall, blonde woman approach a parked car, shoot the driver in the head, and then run away as the vehicle careened into a house along Fifth Avenue East in Twin Falls.

Law enforcement authorities first identified the killer as a woman in the murder case.

Hormones taken "because of the sex change" do not affect judgment or the ability to enter a plea, Kolestani told the court Monday.

"I decided on my own," Kolestani told the court about the decision to plead guilty.

In exchange for the guilty plea, prosecutors will drop a weapons enhancement, officials said Monday.

Judge Randy Stoker will abide by the sentencing recommendations in the plea agreement, he said Monday.

A sentencing hearing is set for July 10.
04-Jun-2009