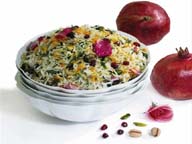 Photo from cover of "Silk Road Cooking" by Najmieh Batmanglij
Do you have a question about cooking?
Ask our Ashpazi experts
October 2002
Latest
* Naan-e khaameh-ee (cream puff)
* Costco puffs + rose water
* Tasty Tofu
Recent
* Ghalieh Mahi
* Sir Torshi
* Ghalieh Mahi
* Sir Torshi
* Kashke Bademjaan
* Noon barbari in China
* Zereshk polo: Easiest Persian mixed rice
* Zereshk polo: Real easy
* Zerishkpolo?
Previous months
* October
* September
* August
October 23, 2002
* Naan-e khaameh-ee (cream puff)
Ray writes: Please give me the recipe for naan-e khaameh-ee (cream puff).
Simin Khanum's reply: My grandmother who passed away last year at the age of 98, loved Naan khaameh-ee. When friends and relatives wanted to impress her, they would get her a box of Naan khaameh-ee.
Naan khaameh-ee should be served fresh, don't keep it more than a day.
1/2 cup butter

1 cup boiling water

1 cup all purpose flour

1/4 t.s. salt

4 eggs
Grease baking sheet. In a saucepan melt butter in boiling water. Add flour & salt all at once, stir vigorously. Cook & stir till mixture forms a ball that does not separate. Remove from heat, cool slightly. Add eggs one at a time. Beating after each addition about 1-2 minute till smooth.
Drop batter by heaping tea spoon (table spoon if you want them bigger.) 3-4 inches apart into greased pan. Bake at 400 degree about 30 min. or until golden brown. Remove from oven, split almost all the way, remove any soft dough, cool on wire rack.
It is easier to fill with ready cool whip or your favorite pudding. You can also use whipping cream, in this case put the cream in a bowl and put the bowl in a bigger bowl of crushed ice and whip the cream only in one direction until it becomes very thick. Of course this filling will make the real Naan khaameh-ee.
Noosh e jaan
October 23, 2002
* Costco puffs + rose water
Ray writes: Please give me the recipe for naan-e khaameh-ee (cream puff).
Simin Rasmussen's reply:
Noon khaameie's pastry is hard to make, so I do not make it from scratch. There are two ways to cheat and pretend you made it!! Costco the giant supermarket has small frozen cream puffs in a box that you can buy and before serving, spray some rose water on them and they are as good as you can make yourself, and taste like you remember.
Also some Italian stores sell the dry pastry puffs in a box. Each box has about 20 puffs. Make your own cream by whipping half a cup of fine sugar, quarter cup of rose water, and 2 small cartons of heavy whipping cream till stiff. With a sharp knife cut the puffs in half, fill with the stiff cream you have made and cover with the other half of the puff.
You can also use a pastry bag and squeeze the cream filling into the puffs by making a small hole in the puffs first.
Noshe jAn
October 23, 2002
* Tasty Tofu
Javid jaan salam,
Bad-az ahvaal porsi va khasteh nabaashi, now that you have become a vegetarian, how
about a simple recepie with lots of protein. OK here we go...
Get some tofu (organic would be better), cut them in small pieces (size of fish sticks). Chop some garlic on it, also add some soya sauce. Leave it for 5 minutes. Now you can fry them on a heated pan (olive oil please) for 3-4 minutes each side. Fry them more if you like and it's ready. Great snack on it's own and sooo tasty.
You can improvise this in countless ways. If it's really hard not to eat meat and sometime youcrave for it,why not eliminate it gradually?
Dasteh Ali beh hamraat,

Hamid Ageorlo
October 15, 2002
* Ghalieh Mahi
Fish soup from Khuzestan province
Ingredients:
(2) King Fish steaks or any fish that can be cut into small cubes and does not fall apart easily
(4) Bunches of Cilantro
(1) Parsley and
(1) Stem of Leek
(2) Table spoon dry Fenugreek (Shanbalileh) available at most Persian stores
(1) Cup chopped fresh Garlic (if you do not like Garlic very much then cut the portion in half)
1/2 Cup tamarind (I do not like the syrupy ones sold in Persian stores) instead get the bulk one which is squared shape with seeds in it and has a sour and tangy taste (we want authentic tasting ghalieh, right?). Remove the seeds and soak them in two tablespoon of warm water.
Salt and pepper to taste
(1) Teaspoon fish sauce: optional
(3) Cups of warm water
Chop the fresh vegetables well and sauté them with two table spoon of either Olive oil, grape seed oil (my choice) or any oil you prefer on low heat. Keep mixing the vegetables with a wooden spoon. Add the dry Fenugreek and continue to sauté until your vegetables permeate the smell of Ghorme Sabzi! Add the tamarind, salt and pepper and then turn the knob on low heat. Add the warm water and put the lid on until you are finished with the next step.
In another pan heat 1 tablespoon of oil and sauté the chopped garlic and after a few minutes remove the garlic and place it in a small dish aside. Sautee cubed fish for a few minutes. Remove and set aside. Add the sautéed garlic to the cooking ghalieh and if you like you can add the 1 tablespoon fish sauce. set your timer for 45 minute and let the ghlaieh cook on low heat. After 45 minutes add the cubed fish and let it cook for an additional half an hour.
I suggest that you taste it throughout the process because depending on your taste you may want to add addition amount of tamarind or garlic if you want to. Well let me know how it turns out. Perhaps I will have a better future as a cook than a writer (not! I do not cook more than twice a year).
Bon appetit!
October 15, 2002
* Sir Torshi
Gaetano writers: It would appeal to me to have the prescription in order to prepare Sir Torshi.

Simin Khanum's reply: Sir torshi is very easy to make. All you need is vinegar, salt and garlic. Get as much garlic as you like, clean the bottom of it where all the cloves are attached. It is better to separate the cloves but do not skin the garlic. Pour vinegar into the jar, put some salt in the vinegar and put the garlics in the jar. The vinegar should cover the garlic.
Sir Torshi, Persian carpets and a beautiful woman have something in common: the older they get, the better they become.
October 7, 2002
* Kashke Bademjaan
Yasmin Lalani wrote: I would like to have a really good recipe for Kashke Bademjaan. My friend had it at a function and loved the combination of sauteed aubergine, walnut and cheese (kashk).
Simin Khanum's reply: Despite the saying that Badmjaan is "bi boo va khasiat" any food with eggplant tastes good. Kashke Bademjaan is one of the tastiest Persian appetizers. It could be made in different styles.

-- 3 big eggplants (bademjan e dolmeh) or
-- 6-8 Chinese eggplants. I like these since they taste more like Persian eggplant.
-- 2 large onions, peeled, sliced and fried.
-- 2 cloves of garlic, peeled, crushed, sauete in oil.
-- 1/2 cup or more wey, kashk
-- pinch of salt, pepper,turmeric
-- 1/2 cup walnut, optional
-- 2 tomatoes, optional
-- 1/2 cup or more water
-- 1 table spoon dried, crumbled mint sauete in oil for a minute.
Wash and Peel eggplants.If using the big ones, or Italians. Cut lengthise slices. If using Chinese, you may have to cut in the middle too. Dry them with paper towel, put some salt on them. Unlike zuccini or squash, eggplan uses a lot of oil. Heat oil in frying pan, lay the eggplants one by one gently on medium heat, fry both sides.
Put water and pieces of tomatoe and 1/2 kashk, a little salt, pepper, turmeric, garlic, or garlic powder, 1/2 fried onion and cover to simmmer on low heat, maybe 10 minutes or so, until the eggplants and tomatoes become soft. Mash them with fork or anyway you like add the walnut add the rest of the kashk and let simmer for a few more mnutes. Taste it and add more salt or kashk it needed. Don't be stingy in using kashk. put in a dish garnish with the rest of onion, mint a little crushed walnutand kashk and saffron that has been disolved in hot water.

Kashk e bademjan should be served with nan Lavash (thin flat bread), Taftoon or Pita.

Please note that in some recipes, the tomatoe and walnut are not used.

P.S. You may also put the eggplants in the oven with hight temp. and make it Kababi. In this case make couple of holes with knife in them and put them in a dish, it is done in 30-40 minutes or when the skin becomes kind of wrinkled and separated. Let it cool and the skin separates easily. Discard the seeds and the juice and follow the rest of the recipe.
Noosh e jaan
September 30, 2002
* Noon barbari in China
Jila wrote:

Would you please send me the recipes for Noon Barbary? I have an opportunity to introduce persian food to some Chinese people and would like to be able to present them with noon barbary as well. Thank you for your assistance.
Simin Khanum's reply:
I suggest that either buy noon e barbari or forget about it. Even the stores who make it professionally, never is as good as it was in Iran. I think they might enjoy it more if you take them to a place that they have tanoor and make lavash. -- Simin Khanum
Jila wrote back:

Thank you very much for responding to my e-mail. Unfortunately, here in this small city in China there are no places that I can buy persian food/bread etc. I have found a bakery who is willing to bake the bread if I give him a recipes. Your suggestion of noon-e-lavash is wonderful also. Do you have the recipes? I am alone here and the only persian they have met and know. Regrettably, I do not have a cookbook and have not been able to find anything on the web to help me either. I would very much appreciate any help you can give me.
Simin Khanum's reply:
I called a bakery to ask for the recipe, he said all Persian bread need Tanoor, in the oven it will come dry, I am supposed to call later tonight and ask him anyway. I hope it works. by the way, is there any Arabic bread there? Like pita bread, that is the closest to persian bread.
September 6, 2002
* Zereshk polo: Easiest Persian mixed rice
In reply to "* Zerishkpolo?"
You are lucky to ask the recipe for one of the easiest Persian mixed rice. The direction may look long, since I wanted to make it clear. I assume that you know how to make rice.This is how I make the Zereshk plo.

Short cut to Zereshk Polo

Serving: 6

3 cups long grained basmati rice
Generous portion of saffron powder
dissolved in hot water

Almond slice: 1/4 cup optional

Raisin: 11/2 cup. sauté in oil or butter (my suggestion is to use Currents, they are smaller and looks and tastes better and size wise matches zereshk better.) add the saffron for a short minute and remove. Don't over fry the raisins. Should not change color. In some part of Iran, raisin
is not among the ingredients.

Zereshk (dried barberries):2 cups wash zereshk. Soak in water and drain a few times. The trick is here: put Zereshk in a small bowl, add 2-3 tabs of water and couple of spoons of sugar. It should look like there is almost no water in the bowl.(empty or add water and sugar if needed. sugar akes
the berries change to a bright color and fresh looking. Let it soak for an hour or more. You can prepare as much Zeresh this way and keep it in the freezer for future use.

Direction:

Make your plain rice ready. you can use mixture yogurt, egg and saffron for the "Tah dig".

At serving time put some plain rice in the dish then spread some Zereshk and raisin and repeat. cook(not fried) chicken with very little water, onion, salt,pepper, turmeric and serve it like with rice or separately. You can buy ready roasted chicken.

Garnish with almond slice. You can color the almond with saffron.

My mom's version:

After you drain the rice use the same pattern of putting rice zereshk, raisin,and even chicken, cumin, oil and put the Dam kony until the rice is ready.
-- Simin Khanum
September 6, 2002
* Zereshk polo: Real easy
In reply to "* Zerishkpolo?"
Zereshk polo is a real easy polo to make if you spend some time taking care of your zereshk and preparing it.
Most of the zereshk that I have bought or received from Iran have a lot of sand, dirt and dust. Here is what I do to get the zereshk ready and to make a pot of rice serving 4 people. Keep your zereshk in the freezer till ready to use. This helps to keep the bright red color, otherwise it will turn dark. 2 days before you plan to cook zereshk polo, take out one cup of zereshk and pick through it for little stones and clean it well.
Wash the zereshk in a double colander and change the water 4 or 5 times till here is no dirt, sand and the water runs clean. Shake the colander well and let the zereshk to dry out for 2 days before you use it. We do not want wet soggy zereshk!! Cook chicken pieces anyway you like. Make your rice and while it is is steaming, prepare the zereshk.
Here is the recipe for the zereshk that you add to the rice before it is brought to the table.
* One cup of cleaned, washed and dried Zereshk.
* One half teaspoon of saffron dissolved in 3 table spoon of hot water
* 3 Table spoon of butter
* 2 or 3 table spoon of sugar
* One half cup of slivered almonds
Place the butter in a non stick frying pan over low heat. Add zereshk, toss and add sugar and saffron water to the pot and mix well. Cook for one or 2 minutes till sugar melts and coats the zereshk and there is little water left in the pot.
Add slivered almonds, mix and turn off the heat. Place half of your ready rice (damkeshideh) on a nice platter, spread half of the zereshk mixture over it, layer it with the rest of the rice and finish it off by spreading the remaining zereshk mixture on top of the rice.
Arrange your chicken pieces around a platter and serve.
Noshe jAn
P.S. Some people add fried onion and Advieh to the mixture, but I like the taste of zereshk just by itself.
September 4, 2002
* Zerishkpolo?
I am looking for a recipe for zerishkpolo. Do you know where I can get it?
Ashpaz
If you want to give people advice on cooking, ask to be listed here
We have two Simins for now :-)
-- I like to give advice on Ashpazi. I am the queen of low fat, Fat free, vegetarian cooking. After many years of cooking passionately, these days I would like to spend my time on other things rather than cooking. I can give advice whenever I have the time. My name is Simin Khanum.
-- I can give some cooking tips. Email me: Simin Rasmussen.