---

A Proposal by
Mani Ardalan Farhadi
Mani Ardalan Farhadi is an architect at Sasaki associates in Boston. She recently completed her thesis for a bachelor of architecture degree from Boston Architectural Center. Her thesis was dedicated to the design of a "Center for Persian Culture."
The 136-page document details her quest to play a part in the creation of a community center for Iranians living in the West; a place where Iranians can revisit, learn and experience their unique culture -- "a place ... like home."
Farhadi's passion for Iranian architecture has been nurtured by her father, Nader Ardalan, who designed a number of major projects in Iran, including Azadi (Shahyad) Stadium, Bu Ali Sina University and the Center for the Intellectual Development of Children and Young Adults.
The Iranian Association of Boston is raising funds to build such an Iranian community center, incorporating some of the elements presented in Farhadi's original thesis.
Excerpts adapted for The Iranian:
In order to integrate my life experiences, half of which was spent in Tehran, and the other half in Boston, I will be making a personal exploration of uniting the cultures of the East and West. Personally and philosophically, I am a product of both cultures.
While being raised, I was educated to appreciate the customs, language and religion of Iran. Though I attended Tehran International School, where the primary language of instruction was English, I learned Farsi and French.
My family and I explored various parts of Iran, visiting historic sites in Isfahan and the Persepolis, religious sites in Mashad and Qom, the gardens of Kashan and Shiraz, the oil fields of Abadan and Masjed Soleyman, the shores of Ramsar on the Caspian Sea, the desert oasis of Tabas, the mountain region of Damavand, the ski resort of Dizin and small villages such as Natanz.
We also spent a few summers in New England, in addition to our travels to Europe, North Africa and the Middle East. Beyond my childhood sojourns, my adult yearning for travel has also taken me to Canada and Japan. Through these journeys, I realized the value of both Western and Eastern ways of life.
However I have not yet traveled back to Iran since my departure 15 years ago. This thesis will be an opportunity for me to reach out to the land I left behind, a chance to unite my dual backgrounds and an opportunity to bring people of both cultures together.
Since my move to Boston in 1980, I have searched for a place that felt like home. When it was time to plan my wedding in 1987, I chose to be married in the International House at Wellesley College. It is a serene place, beautiful and welcoming. However, it made me realize there was no specific place for Persians to perform some of their significant rituals. It was then that the seeds of this thesis proposal were planted for a place to be called Center for Persian Culture.
The Need
The need for a Center for Persian Culture has developed gradually. Initially, as with all immigrants, Iranians were concerned with survival, finding work, completing school and living day by day.
Within the last ten years, they have become an established, professional and accomplished group of people. They are now beyond the struggle for physical survival and are turning to the survival of their inner being and yearning for the culture they left behind.
Their children are now being raised in the United States and some are not learning the Persian language and customs as they should. Parents are hoping their children will remain within the Iranian community in order to carry on the traditions throughout future generations.
Their dilemma has to do with the fact that many are cut off from the country of their roots due to the change in government that occurred in 1979. Though travel to and from Iran is not restricted, it has become more costly and cumbersome.
We satisfy ourselves with occasional events such as musical concerts, dances, parties, lectures and film festivals to feel part of a community. Most of these have been sponsored by the Iranian Association of Boston, which strives to keep the Persian community cohesive.
There is an estimated number of 25,000 Iranians now living in Massachusetts. Their location is fairly widespread but the western suburbs of Newton, Brookline, Chestnut Hill and Watertown have a sizable Iranian community. They are comprised of families, students and working professionals.
It is felt that the entire Persian community, in addition to all other interested persons, needs access to a Center for Persian Culture, where it can feel welcome to make use of the services. Families with mixed heritage, such as Iranian-Americans, who may have never been to Iran, need to learn more about their heritage through Persian books, films, music, lectures and events.
Students of all ages need to be able to refer to resources in order to write papers for research projects. The necessity for a Persian Culture Center has been voiced by the community and this thesis is in response to that need.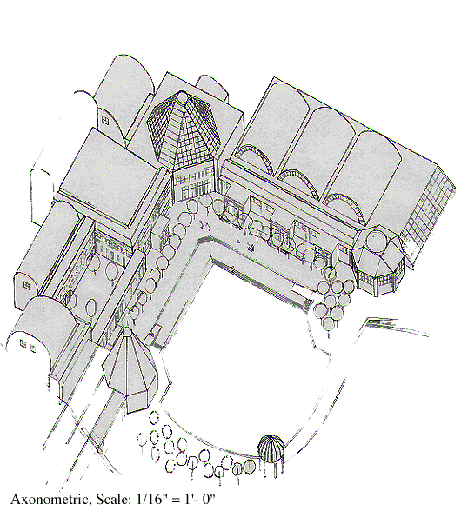 Conceptual Goal
"Institutions stem from the inspiration to live. This inspiration remains meekly expressed in our institutions today. The three great inspirations are the inspiration to learn, the inspiration to meet and the inspiration for well-being." (From Louis Kahn, Between Silence and Light. p.44).
In developing this proposal, the three major elements inspired by Louis Kahn will be addressed. These elements are social, academic and spiritual, translating into a Place of Gathering, a Place of Learning and a Place of Peace. The three can be expressed programmatically as the Social Hall/Restaurant, the Library/Auditorium and the Garden/Sanctuary, representing Body, Mind and Spirit.
The Center for Persian Culture will be a place of cohesion, bringing together interactions of an educational, social and spiritual nature. In their efforts to assimilate into the American mainstream culture and perhaps because some have mates who are non-Iranian, some Iranians are unable to acknowledge and nurture their roots. It is for these people, for those reaching out to touch other Iranians, and for those in search of reinforcement of their identity that this center has been designed.
As a Place of Gathering, it will unite Iranians and others in celebrations such as Norouz (the first day of spring, Persian new year), Mehregan (the first day of fall), Yalda (the first day of winter) and traditional ceremonies such as weddings.
Aside from the fun-filled parties and evenings of entertainment, some Iranians would like to pursue more intellectual simulation.
As a Place of Learning, it will teach Iranians and others about their history, literature, art, architecture, language, music, food and crafts. To fulfill this need, there will be monthly lectures, a library of books on Iran or by Iranians, theatrical performances, film festivals and language instruction classes. The library, classroom and auditorium components of the center perform these academic functions. The presence of a research scholar constituent will enhance the academic nature of the center.
As a Place of Peace, it will have a retreat space, and a Persian Garden with a water feature. These elements will serve to create a quality of space that will reverberate with familiarity and inspire unity among Persians. This retreat will provide a place for contemplation, reflection and reminiscence.
The garden and sanctuary will be a destination point of the project and will be tied to the social and academic spaces.
Building Goals
Integration: It would be desirable to have both Persian aspects to the project as well as New England ones. The integrative feature could be expressed through having different forms that represent each culture or forms that are a fusion of the two. The architect's aim is to explore how the exterior can respond to New England forms, how the interior architecture and garden elements can evoke traditional Persian forms and how the exterior and the interior will then relate to each other.
Adaptation: A design that adapts to the site in a unique way and capitalizes on sustainability would be ideal. Using site elements as focal points and setting up views and axes will help to merge the building with land. Taking into consideration the northern climate, the expense of winter heating, the extent of summer overheating and the advantage of energy efficiency will allow the building to harmonize with nature.
Typology: The three elements of the project, namely a place of gathering, a place of learning and a place of peace, should be identifiable, either as separate entities or as visual focal points. This clarity can serve to organize the main program components. Since this will be the first Center for Persian Culture, it can serve as a beacon and an inspiration for others to follow. As such, it can become the prototype from which a new building type is created.
Budget Estimate
The budget estimate has been determined based on the site and building program. In order to calculate the gross area, 10 percent for mechanical/electrical, 18 percent for circulation and 5 percent for structure was added to the net square foot.
Site work will consist of brick paving, granite curb, an outdoor garden, a greenhouse, an orchard, a pond and terracing. Parking for 150 cars will be provided.
The building will consist of brick face with concrete backup and steel frame. Skylight of glass and steel, wood trusses and a turn roof will complete the building.
The total building program of 40,000 square feet and site program of 60,000 square feet will cost approximately $10,000,000 to build.
Final Note
Hopefully someday this project will be built, bringing to life a dream for Iranians like myself.
---
---

---
Send your Comments to: iranian@interport.net. Copyright © 1995 Abadan Publishing Co. All Rights Reserved. May not be duplicated or distributed in any form.