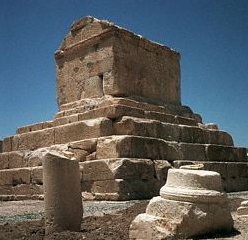 Cyrus can rest in peace
Pasargadae and rumors about the dangers of Sivand Dam
Ali Mousavi
September 16, 2005
iranian.com
Recently a rumor has been spread among Iranians, especially those who live outside Iran, that the World Heritage site of Pasargadae and even Persepolis will be drowned after Sivand dam in Fars is put into service next year.
The 160-hectar site of Pasargadae, the first capital of the Achaemenid empire, was inscribed on the World Heritage List of UNESCO in June 2004, and has been since a World Heritage site.
As the person who prepared and compiled the World Heritage file for Pasargadae under the supervision of Dr. Chahryar Adle in cooperation with the Cultural Heritage and Tourism Organization of Iran, I had to visit and record all the ancient remains in the plain of Murqab -- where the site is located – including the 18-kilometer Tang-e Bulaqi that stretches like a canyon between Pasargadae and Sivand.
The work on the World Heritage file began in 1999 on the initiative of the Research Department of the Iranian Cultural Heritage and Tourism Organization, and benefited from a broad array of field work, including aerial photography and geophysical surveys that were carried out by the Iranian Cartographic Organization and a French team respectively.
The preparation of the World Heritage file required a thorough examination of potential dangers in the area, and more specifically the construction of the new dam in the Bulaqi gorge.
Moreover, rescue excavations carried out by international teams have been going on in the gorge since two years in order to record every single ancient remain in the gorge including parts of an ancient royal road, which are going to be disappear after the flooding of the dam.
These investigations have shown that the limits of the lake behind the dam at its largest reach would be 7 kilometers to south of the plain of Murqab that is 9 kilometers from the Tomb of Cyrus. The distance from Persepolis located ten times farther, more than 70 kilometers to the dam, will be entirely safe.
Therefore, the idea of Pasargadae being drowned by the waters of the lake behind the dam is absurd. It should be, however, noticed that the presence of a lake in the region may have some climatic impact such as an increase of humidity on adjacent areas including the plain of Murqab.