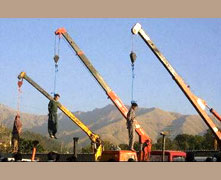 Public hanging
A street show in Iran
Abbas F. Saffari
September 13, 2004
iranian.com
For the past two years, I've lived a pretty isolated life in this once a privilege and upper class neighborhood of Mehr-Shahr in Karaj, an hour west of Tehran. My time is divided between my work, which I usually get to before everyone to avid the traffic and leave after others for the same reason, home and weekend in giant Tehran to visit my siblings and hike the majestic mountains of Darakeh and play tennis at the Azadi Stadium (previously Arya-Mehr).
I gave up the convenience and comfort of a once-cherished life in Cambridge, Massachusetts, where I worked with a Nobel Prize winner in the field of biopharmaceuticals, to return home to positively impact the drug industry. The industry which has been dead for a long time and badly in need of fresh blood.
I wrote "Making a difference in Iran" on the occasion of my departure for home followed by "For better or worse" on the first anniversary of my return to Iran. Now, I find myself determined once again to write; this time about a horrible incident that has shaken me to the very core of my being. An event that has profoundly impacted my view of today's Iran and my decision to return home. It started with routine traffic jam but ended quite differently.
Last Wednesday, I left home for work around 8 a.m. After a short drive, I was confronted with an unusually dense traffic where normally there is no traffic at all. At first, I took the traffic as a sign of deadly accident (something that is common in Iran).
Both sides of the street were covered with cars that were parked in duplicate and triplicate. Everywhere people were parking their cars and literally running. Cops were busy ticketing cars and that didn't seem to matter to anyone. It was an unusual atmosphere; one that I had not experienced before.
As I was zigzagging through traffic (something that I'd to learn against my wish to survive), I looked to my left and saw people, thousands of them, men, women and youngsters of all ages gathered around a large piece of empty land at busy intersection in an L-shaped formation. It appeared that they were watching some special event, a show.
At first, I thought, there must be some sort of lottery or ruffle drawing where the vacant land is being given away to some lucky person. No sooner that I thought that, I saw a tip of a construction crane placed at the center of this unused land. My thoughts changed immediately from a lottery to some form of excavation ceremony (not too uncommon in Iran).
I was almost home free and happy that I had left traffic behind when I saw a large banner with the following words on it: "Hanging ceremony of a member of Karkses Group will take place here at 7:00 a.m." Shocked, dismayed and struck with feelings of sadness and anger, I stepped on the gas as hard as I could to leave the scene. So many feelings rushed through my mind; my very pivotal decision to return to Iran to help others went into question.
I needed to speak with someone, anyone who would just listen. I discussed the matter with my colleagues at work, but that didn't shock any one of them. One man even saw necessities in this shameful act for "the good of society" and defended the executions. I wanted to scream and tell him that taking the life of a human should not be turned into a street show where everyone is welcome to watch; this is against every principle of humanity, crucial principles that do not recognize whether you are Iranian or American. I am against all forms of capital punishment.
Imagine what this would do to youngsters who witness the spectacle. Envision what effects this would have on a new generation of Iranians. How thousands of people start their day by witnessing such an horrible, archaic scene... I wonder how a person watches another person's last breath and then sleeps peacefully at night. How a person goes to the scene at 7.00 a.m. and then looks for the best spot to watch the public hanging ceremony and then this same person comes home and utters kind and loving words to the family? It is beyond me and beyond every principle of humanity and mankind. It is a predicament I have to live with for as long as I live.
It is Sunday, five days after the incident, and am bewildered at what took place last Wednesday in Mehr-Shahr, which ironically means the "City of Kindness". It's like a bad dream turned into a nightmare. Regrettably, every day I have to drive by the very same piece of empty land that was the theatrical stage for the public hanging. Every day is a painful reminder of brutality and savagery of mankind.
I've often found some bright spot, some positive aspect to write about Iran. I've contemplated whether to write this piece and share the not-so happy experience of my tumultuous journey through the land of Cyrus, the Great. My dear compatriots, this is what it is, the true and uncensored picture of once glorious civilization envious of all mankind. This is our home!