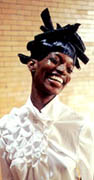 Morteza Saifi
Far from orthodox
May 8, 2001
The Iranian
The VH1 show The Big '80s cannily exploited cheap nostalgia for bubblegum pop, British New Wave and hairspray rockers. For Spring 2001 designers likewise longed for the decade, with varying degrees of success.
Marc Jacobs celebrated the era that discovered him by presenting a mall rat's dream of candy-colored extravagance, while Helmut Lang interpreted bondage chic for a new generation. Downtown designers also continued to thrive, with As Four, Bruce and Morteza Saifi doing what they do best -- reinventing, questioning, and providing fresh voices from the underground.
It's a lesson Miguel Adrover would do well to learn, as the designer departed from his brilliant deconstructed fall line to show spring clothes that could be mistaken for a bridge line. The avant-garde making a deliberate play for the cheese-and-wine mainstream? So '80s.
Arguably one of the best shows during the week, Morteza Saifi's spring presentation could only have taken place in New York. The setting for the limited showing of 13 looks was a Chelsea school auditorium with enormous windows, through which the Big Apple cityscape served as an impressive background. The models walked out to the sounds of a live gospel choir, a fitting backbeat to Saifi's take on interdenominational Sunday dressing.
Though less high-impact than last winter's range, Saifi's suitings were far from orthodox: the Iran-born designer likes his construction complex and his silhouette sculptural. We had lots of questions backstage for one of Hint's favorite downtown designers, but Saifi was in Ghesquiere-monastic mode and wanted to be alone. Despite the slight, we still have faith. -- Hint Magazine
Click on images to see larger photos